I can't believe I haven't done a "Doppelganger" post since this past fall! I've been adding some great neon vintage dresses to The Curvy Elle Shop and thought it was the perfect opportunity to do a post.
For those of you who aren't familiar with the term "doppelganger" is defined as "someone who looks like someone else"* (usually used in terms of people). In my "Doppelganger" posts, I instead find look-a-like designer pieces and compare them to my own plus size vintage pieces from The Curvy Elle Shop. I like showing that you can be fashionable at any price point and at any size.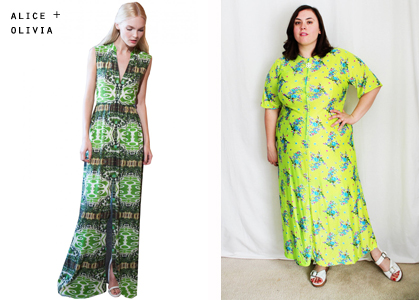 [Left] The "Long Sleeved Sequin Wrap Dress" by Halston Heritage, retails for $525 and comes in sizes 0-10.